Rumors the Obama campaign shouldn't try to correct.
T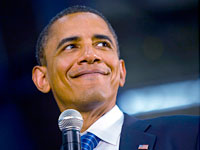 he Barack Obama presidential campaign introduced a new site last week, FightTheSmears.com, that it hopes will debunk persistent myths about the senator: that he's a Muslim, that he won't say the Pledge of Allegiance, etc. As we have
argued
before, restating the myths often reinforces them, no matter how persuasively they've been refuted.
Rather than restate untruths about Obama, the campaign would do better to start some rumors of its own. Here's a template e-mail the Obama campaign might consider disseminating.
From: [Redacted]
To: [Redacted]
Subject: WHO IS BARACK OBAMA?
There are many things people do not know about BARACK OBAMA. It is every American's duty to read this message and pass it along to all of their friends and loved ones.
Barack Obama wears a FLAG PIN at all times. Even in the shower.
Barack Obama says the PLEDGE OF ALLEGIANCE every time he sees an American flag. He also ends every sentence by saying, "WITH LIBERTY AND JUSTICE FOR ALL." Click here for video of Obama quietly mouthing the PLEDGE OF ALLEGIANCE in his sleep.
A tape exists of Michelle Obama saying the PLEDGE OF ALLEGIANCE at a conference on PATRIOTISM.
Every weekend, Barack and Michelle take their daughters HUNTING.
Barack Obama is a PATRIOTIC AMERICAN. He has one HAND over his HEART at all times. He occasionally switches when one arm gets tired, which is almost never because he is STRONG.
Barack Obama has the DECLARATION OF INDEPENDENCE tattooed on his stomach. It's upside-down, so he can read it while doing sit-ups.
- more -
Sphere: Related Content