Friday, November 21, 2008
Yeah, it's silent. So what? You'll barely notice. It's that good.
By Gary Giddins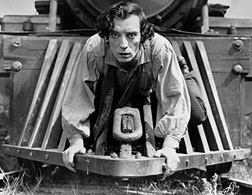 Those of us who grew up in the 1950s and 1960s, when television was awash in classic movies (Million-Dollar Movie, Shock Theater, The Late Show, and Silents Please were among the first schools in cinema—just ask Scorsese, Spielberg, or Coppola), are aghast to find that our children are often reluctant to watch black-and-white films, let alone silent ones. Especially those deemed to be among the greatest ever made. The imprimatur of the experts turns pleasure into obligation, and suddenly the notion of sitting through a comedy that had for decades convulsed audiences takes on all the promise of reading The Merry Wives of Windsor—the most annoying and witless of Shakespeare's plays, yet once upon a time thought to be a riot.
Still, for anyone who has never seen a silent picture or, worse, seen only speeded-up pie-throwing excerpts, Kino International has an offer you can't refuse: a spotless new transfer of Buster Keaton's 1926 epic, The General. Kino initially released a DVD of The General in 1999, which looks like every other version I've seen in theaters or at home—the focus is soft, and the tinted film stock is faded, scratched, and jumpy. The new edition, part of a two-disc set (most of the extras concern the historical basis for the story), is pristine, sharply focused, stable, and gorgeous.
Gorgeous is important, because The General is a peephole into history and by any definition an uncannily beautiful film. Indeed, for a first-time viewer, I would emphasize the beauty over the comedy. Many people are disappointed when they first see The General because they have heard that it is one of the funniest movies ever made. It isn't. Keaton made many films that are tours de force of hilarity, including Sherlock Jr., The Navigator, and Seven Chances (all available from Kino). The General is something else, a historical parody set during the Civil War.
The comedy is rich but deliberate and insinuating. It aims not to split your sides but rather to elicit and sustain—for 78 minutes—a smile and sense of wonder, interrupted by several perfectly timed guffaws. The General belongs to at least three movie genres: comedy, historical, and chase. Most of it is constructed around a pursuit as relentless as any Bourne blowout, involving a Confederate locomotive, called the General, hijacked by Union spies.
The General's engineer, Johnny Grey (Keaton), spends the first half racing after it—on foot, handcar, bicycle, and another train—and, once he has stolen it back, the second half in flight from the Texas, a train manned by Union troops. If the film begins as a contest between man and machine, it ultimately depicts a triumphant collusion between the two. Keaton, one of the greatest natural athletes and stuntmen in film, loves his train as much as he does his inamorata, Annabelle Lee (played by the wonderfully oblivious Marion Mack*). He leaps and crawls over every inch of it, from the pilot, or cowcatcher, riding low on the tracks to the tender carrying the fuel.
In Keaton's hands, the train is nothing more than a gigantic prop, an incessant inspiration to his inventive genius. Many passages are so suspenseful and minutely worked out that the gag, when it comes, is like the release of the General's steam. It gives you a chance to breathe again.
Sphere: Related Content
Posted by

Michael Dare
at 9:08 AM
0 comments


Blog Archive

Facebook Badge

About Me
I am not that other Michael Dare.
View my complete profile

Subscribe Now: standard