Thursday, July 17, 2008

by Steve Bell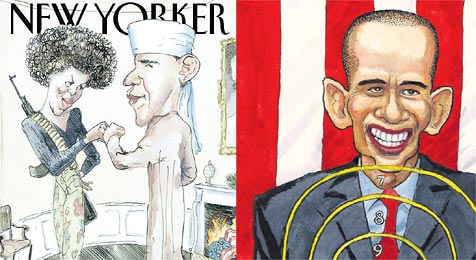 Irony is a difficult beast to control. Your intention as a cartoonist may be perfectly clear to you, but how some psycho in Toadsuck, Nebraska, is going to read your cartoon is anyone's guess, and the psycho's privilege, and you can never second guess a psycho, as was demonstrated in the Coen brothers' film No Country for Old Men. Psychos tend to take things very literally and often carry around captive bolts powered by large canisters of compressed air, especially in the US.
So should we tread warily, lest we are misunderstood? Of course we should. Cartoonists are some of the most painstaking, careful, shy and sensitive people on earth, yet we do play with fire, toying with other people's (and of course our own) most deeply held beliefs and most cherished illusions. Is it possible to go too far? Of course it is? Should we go too far? Of course we should. That's what makes our job so interesting. There's no better feeling than, having taken a risk in a drawing, seeing the thing in print and knowing it works. The converse is also true, which is why I work in a bunker on the south coast.
http://www.guardian.co.uk/media/2008/jul/16/pressandpublishing.barackobama
Sphere: Related Content
Posted by

Michael Dare
at 2:47 PM
0 comments


Blog Archive

Facebook Badge

About Me
I am not that other Michael Dare.
View my complete profile

Subscribe Now: standard