by Martin Lewis
Meet Britain's new Prime Minister: The Right Honorable David William Donald Cameron.

At left: Britain's Brand-New "21st Century" Prime Minister -- David Cameron. Snapped in 1987 in his "Born To Rule" outfit -- worn by all members of The Bullingdon Club -- the UK equivalent of the elite Skull & Bones Society.
Born 1966. Raised in a fabulously wealthy family as heir to a massive family fortune. His Conservative Party is committed to passing a tax cut that will only benefit the 3,000 richest families in the UK -- including his own of course.
He was schooled at England's most expensive and most exclusive private school -- Eton -- and then attended Oxford University where he was a prominent member of the notorious Bullingdon Club.
The club -- a UK equivalent of Yale's exclusive Skull & Bones Society -- is an ultra-exclusive clique that admits only the nation's richest and brattiest trust-fund kids. Its openly declared primary activities are outlandish drinking, boisterous behavior and damaging property.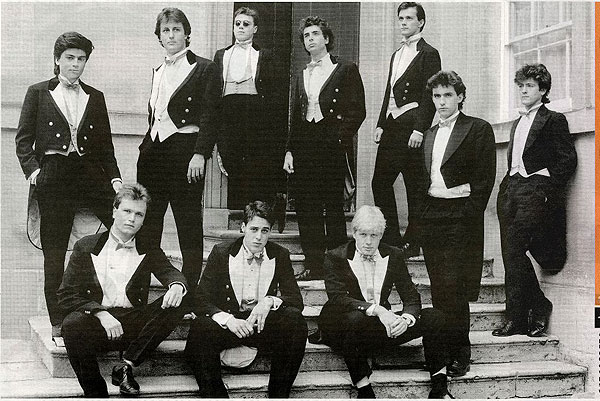 BORN TO RULE (above): Cameron & his Bullingdon Club cronies in full regalia in 1987. The blond bombshell in the front-row is fellow Conservative Boris Johnson -- now reigning over London's citizens as their Mayor.

A well-documented typical evening while Cameron was a member in the late 1980s consisted of the members taking over one of Oxford's fanciest restaurants for the night, eating the priciest food on the menu, ordering and quaffing copious quantities of the most expensive wines and champagnes -- and then totally trashing and destroying the entire restaurant, furniture and fittings. The coup de grace at the end of each such excursion was to go up to the traumatized, distraught restaurant owner and, in a gesture that dates back to the aristocrat-peasant relationship of centuries passed, contemptuously throw wads of banknotes at the hapless owner as recompense for the massive damage caused.
That is the background of Britain's new Prime Minister -- whose only employment other than climbing the greasy pole of Conservative Party politics to become party leader was a stint as corporate flack and spin-master for a down-market TV network.
http://www.huffingtonpost.com/martin-lewis/uk-election-winner-meet-t_b_565762.html
Sphere: Related Content