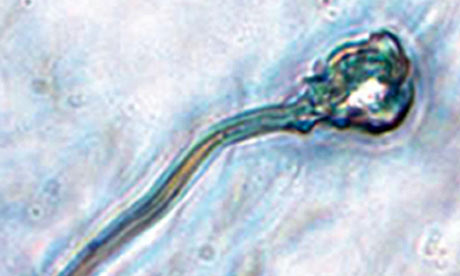 Scientists claim to have created human sperm for the first time, in a breakthrough they say could lead to new treatment for male infertility.
The sperm was grown in a laboratory in Newcastle from embryonic stem cells. Led by Professor Karim Nayernia, researchers developed a method of growing early-stage sperm from human embryonic stem cells by using retinoic acid, a vitamin A derivative.
They found that about 20% of the cells produced early-stage sperm cells or spermatagonia and, after further culture, they could see a number of cells continue to split and divide.
The breakthrough came when some cells continued to grow, elongating and growing a tail which caused them to move, and forming recognisable sperm cells.
Nayernia, of Newcastle University and the North East England Stem Cell Institute (Nesci), described the cells as "fully mature, functional" sperm, which he called In Vitro Derived (IVD) sperm.
He said: "This is an important development as it will allow researchers to study in detail how sperm forms and lead to a better understanding of infertility in men – why it happens and what is causing it.
http://www.guardian.co.uk/science/2009/jul/08/sperm-grown-stem-cell-fertility
Sphere: Related Content